A global leader in impact intelligence
Offering the debt capital market leading management, impact reporting and asset allocation solutions to mobilize transition finance.
Sign up
Trusted by transparency leaders













Connecting debt capital market participants
Green Assets Wallet is an impact tech company with a mission to re-direct capital flows towards to net zero economies. Our solution injects trust and transparency into the debt capital market ecosystem through a proven methodology and harmonized and validated impact data.
Learn more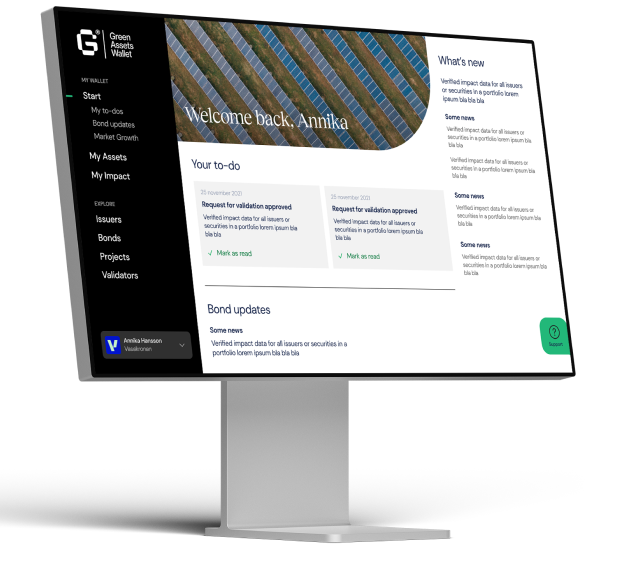 A global trust platform
On Green Assets Wallet issuers, investors, and validators interact and align, while debt security impact data is reported, certified, and aggregated quickly and efficiently.
Issuers can report and communicate transition targets and impact achievements to a global market.
Investors can access trusted and quantifiable impact data to inform allocation choices and evaluate investments.
Access impact data: Anytime, anywhere
We cater for issuers, investors and validators and all debt instruments in the market. Our solution is web-based, easy to use and accessible from anywhere.
Learn more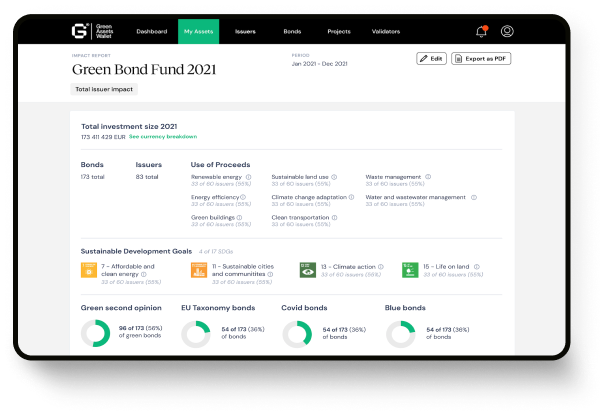 One platform, endless possibilities
Issuers
Investors
Validators
Partners
Report environmental and social impact
Align impact reporting under our Impact Reporting Framework. Ensure best-practice and regulatory compliance.
Communicate and visualise results
Easily share data and disclose impact to global investors, validators and customers. Also attract new ones.
Validate bonds and projects
Demonstrate trust through pre- and post-issuance assurance. Also validate project results.
Upload and store documents
Increase transparency by uploading your frameworks, second opinions, methodologies and impact reports.
Access verified impact data
Access robust and harmonized impact data, on all debt securities. Our importing tool helps you match your portfolio with issuer impact data.
Analyse issuers and entity performance
Create and store a track record of reliable issuers. Review third-party validations and assurance reports.
Automate your portfolio management
Customize your impact portfolio and use our automated data analytics tool to assess your impact - saving you time and money.
Engage clients and stakeholders
Showcase your targets and impact performance to stakeholders via our impact intelligence tool or through data export.
Access global bond issuers
Connect to bond issuers globally and expand your assurance impact.
Accelerate digital verification
Digitize impact data and verification processes. Verify second opinions, impact reports and project impact data online. Secure adherence to frameworks.
Profile and impact visualizer
Make verification results automatically available to stakeholders, while supporting your clients' journey of improving impact performance.
Document repository
Collect data and manage your documentation from clients all in one place.
Financial intermediaries
Support corporate clients pre- and post-issuance. Digitize frameworks, impact reporting and public disclosure. Aggregate client impact.
Stock exchanges
Become a leading, impact-driven stock exchange. Engage with local market participants in impact transparency and reporting. Drive innovation and new revenue streams.
Project developers
Communicate impact and projects to a global audience. Engage directly with stakeholders, integrate digital imagery and satellite technology. Verify results.
Thought leaders
Share your thoughts and views on impact reporting. Collaborate with us for more transparency, harmonisation, and adherence to sound regulation.